No more introduction, you know her, I give you... Pattymara:
Please, tell us about yourself?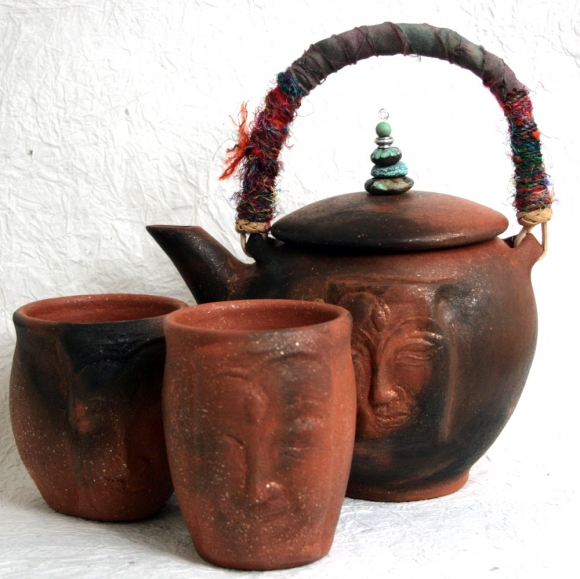 I'm a potter, painter of silk, horder of handmade papers, gardener and heart rock collector. I've been a potter since I wandered into a pottery studio at UC Santa Cruz over forty years ago. I learned to paint silk about twenty years ago. I've been fusing glass for five years. I've loved poetry and collage for as long as I can remember. I'm married to an artist/photographer/fisherman and we shake our heads in wonder and pride as we watch our two adult children make the world a better place. We are native Californians who are planning a move this summer to our adobe home near the Rio Grande in New Mexico. I aspire to learning how to be a beekeeper.
What are your hobbies?
Hobbies! What a concept. If hobbies means something I do for fun, separate from my work, then it would be baking bread from the most wholesome locally grown ingredients possible. For me these days, that means organic whole wheat grown about twenty minutes east of my home at a farm where I assisted at two homebirths. It means organic eggs from my friend Birgit's chickens. I'm a pretty good cook and baker. OK, I'm a foodie. The first improvements we made to our adobe home is to build a greenhouse, to grow food year round. Next will be an horno, an adobe outdoor oven for baking.
What is(are) your specialty(ies)?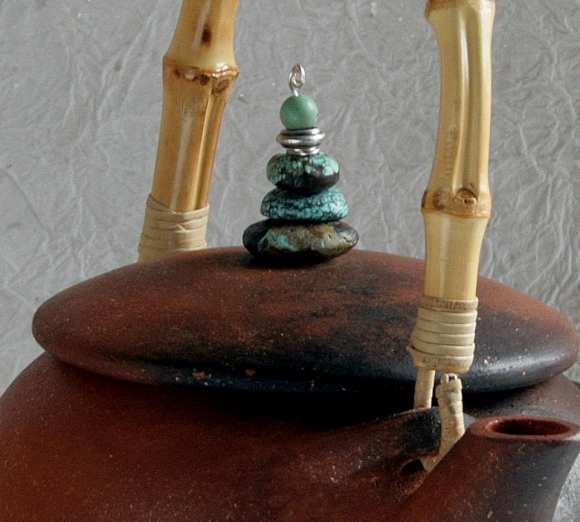 Apple Tart (especially when I'm harvesting apples from my orchard in Pilar, New Mexico) and Pesto.
Oh! You mean ART specialties? Sometimes I get food and art confused. I think of my art studio as a cafe, serving up nourishing art to feed the hungry heart. My daily specials at the Sacred Heart Cafe are mica pottery from New Mexico clay, painted silk banners which usually have a poem or inspirational saying written on them, poetry collage books, artist cards, jewelry.
Please tell us about your beginnings, how did it all start?
My mom gave me piles of butcher paper, crayons, paints, paper scraps, paste, multicolored telephone wires, magazines to cut up. I was encouraged and applauded as an artist since I was a tiny girl. And she took us all camping every summer of our lives. I never stopped making art as I grew up. I also cooked for my large Sicilian Catholic/Norwegian Lutheran family since I was in fifth grade, when my mom went back to work in the early sixties. I studied anthropology in college, got my BA in it, but really took more art classes than anything else, and have worked as a freelance studio artist for most of my adult life as an illustrator, potter, painter.
Where and/or how do you find inspiration?
Outdoors, hands in soil. Feet in rivers, wading, fishing, paddling. Climbing rocks to find petroglyphs. Landforms, caves, canyons, moonrise, dawn, twilight. Meteor showers. Birdsong. Heart rocks. Word play. Songs. Moths, bees, dragonflies, raven, dolphin, whale, rainbow trout.
When you are not creating, what do you do?
Most of my days, these days since my children are out in the world on their own, I have the great freedom to make art all day long. When my children were young, it seemed the only time I had was in the wee hours of night ("mama time"). To be painting by daylight is a blessed event, or working in my pottery studio in the sunshine. If I'm not making art, I tend my flowers and my garden. I walk to a nearby farm to buy the most succulent berries and vegetables grown on this earth. I spend too much time in front of this computer screen. I go on treasure hunts at local thrift shops and am often rewarded.
How do you promote your work?
Mostly my customers do that for me. They just keep coming back for more, and they tell their friends about my art. I've participated in our local Open Studio Tour for eight years, and am signed up to do the Studio Tour this fall in own new tiny town in New Mexico. People come and see my work, and they try it....then come back for seconds and thirds. I do have my work in a couple of galleries, one all the way up in Alaska, but mostly I sell online. I'm not very skilled at the social networking technologies yet, but Facebook has been interesting to dip my toes into for sharing my art with a larger circle of customers. I think the best promotion is to always make art that is joyful to make, to look at, to give as a gift. Then, the work promotes and sells itself, sending out an energy wave of delight. Really, it does, I'm not being glib.
What would you recommend to new handmade sellers?
Fill your art with Spirit, with your best talents, thoughts and wishes. Chant or pray while you work. The prayers, the good wishes will infuse your art with good medicine. Make something meaningful. No throwaways. Make something that lasts, that uses supplies that are earth friendly. Know where your supplies come from. Is the earth damaged when they are created or mined or manufactured? Use what you have at hand, REuse everything at hand.
Team up with other artists who share your heartview. Find ways to support and encourage and promote your art together. Collaborate with them, merging your skills to make beautiful creations. I'm currently collaborating with Mannybeads. I make the teapots, she stacks cairns of turquoise to serve as the knobs on the lids.
Befriend your customers with respectful attention, and careful packaging (recycled or repurposed if possible!). Listen to them, ask them for feedback, shower them with attention.
Anything else you would like to say?
Be kind to one another. Buy art from other handmade artisan shops. In my profile photo I'm wearing a "mantle" from OnSlenderThreads. It is one of my most cherished possessions, exquisitely crafted, redolent with lovingkindness. Buy supplies from small shops too. Why give Walmart money when you can send some along to a small artisan shop? Like DyeDianaDye who dyes silks, cuts it into strips and makes the most fascinating silken "yarn". I buy my clay from native potters in New Mexico who hand dig the clay with deep respect for the Mother.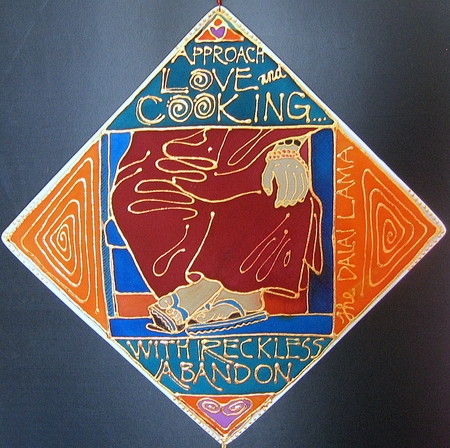 Like my friend the Dalai Lama says "Approach love and cooking with reckless abandon." I'd say the same about art. Keep learning new skills and techniques. Let your art branch out to unexplored territory. Add new spices. Stir often. Savor.
Pattymara on CraftIsArt.com